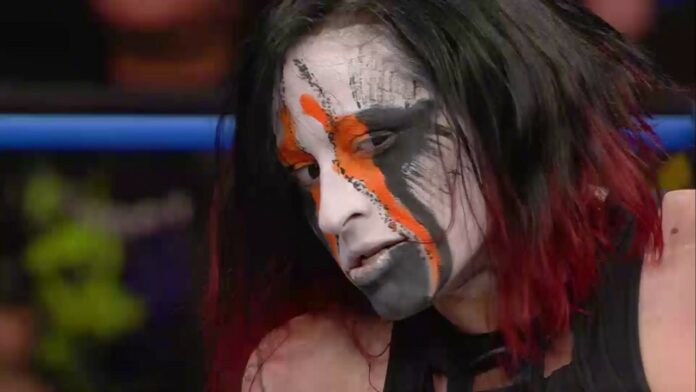 The talk of the Wrestling world since last Saturdays event of AAA's Triple-mania XXV, was Sexy Star and her lack of professionalism during their match at Triple-mania. End of the match seen by millions was Star performing an armbar for the win of the match and her retaining her title doing so. However, the way she did it has the Wrestling world highly aggravated.
Star injured Rosemary during the move, doing so by torquing on it to much which on camera looked really vicious.
This has set things ablaze with comments from many Professional Wrestlers giving their thoughts on the lack of respect or care for Rosemary sharing the same ring and having the move done to her. Since then as of now there has been no apology publicly by either Sexy Star herself personally in any form or the AAA promotion itself publicly in any form as of now.
Rosemary gave a couple of days ago her thoughts on the actions against her by Star. At that point it was said by several people that Vampiro and others tried to get Star to apologize. That was to no success.
24 hours removed.. pic.twitter.com/KHrPQRAAJS

— The Demon Assassin (@WeAreRosemary) August 28, 2017
It was also being said by Sexy Star that what she did inside the ring was a "work", but yet many spoke out in reference to a so called altercation Rosemary had with Sexy Stars sister backstage somewhere before the match even happened. We don't know this as true, however some did say the same thing whenever asked. So if that was true what was the real provoked motive for Star to do so? If it was a "beef" so to say it could or should have been handled outside of the ring.
GFW just recently today gave their public announcement of their thoughts of the incident at AAA's Triple-mania.
It was an honor for GFW to be invited to participate in Triplemanía XXV, held this past weekend in Mexico City. The AAA talent that we have worked with have been consummate professionals and the company organized and delivered an extraordinary event, in which both DJZ and Andrew Everett had spectacular showings following their recent surgeries.

While the incident with Sexy Star marred an outstanding show, AAA executives have confirmed to us that appropriate measures are being taken in respect of this incident. Both AAA and Sexy Star have apologized to Rosemary.

It is time to focus on the positives of the weekend (Triplemanía XXV outrated the other sports entertainment event on Saturday evening in Mexico; Eddie Edwards became the first gaijin to win the GHC Heavyweight title at NOAH) and look forward to building our relationship with AAA and NOAH to bring an ever improving wrestling product to our fans.
Rosemary now also has replaced Sexy Star as the guest of Gimmick Tree Entertainment at Wrestlecade this year.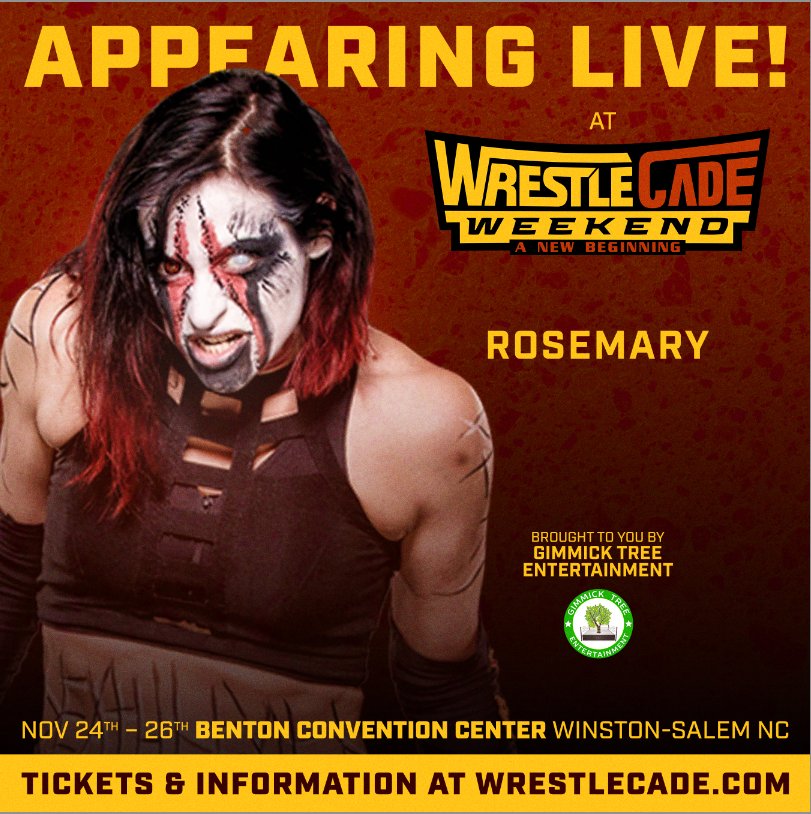 Rosemary just recently today via her social media accounts gave what she calls her final thoughts on the altercation with Star from Triple-mania.
This will be the last I will say on the matter before we go back to our regularly scheduled demonic possession. What happened has happened and its been too much time already spent in the mortal realm as it is.
My injury is thankfully less severe than anticipated (and certainly much less than has been reported some places). Strained tricep/bicep with swelling around the area. Returning to the ring will come when the doc is happy with my strength and range of motion, but I am optimistic that time lost will be minimal.
Can we all take one thing from this entire messy situation: that no matter what is going on in our personal lives, we need to take CARE of each other out there, and I'm not just talking about in the ring. And if you screw up (and we all do), own up to it. Let's stop making excuses and take accountability for our actions.
Thank you so much to everyone who reached out and checked in on me; I haven't even been able to read them all yet. With such an outpouring of love and positivity from people, I would like to pay that forward and turn a positive light on what came out of this weekend of wrestling: Eddie Edwards made history when he won the GHC Heavyweight title at NOAH, becoming the first gaijin to do so, and both DJZ and Andrew Everett had INCREDIBLE showings while tagging at Triplemania after both recently having surgeries. So let's try to put some positive energies back into this world of professional wrestling that I love so much and move on from this.
All right, Demon. The meat-sac is yours.